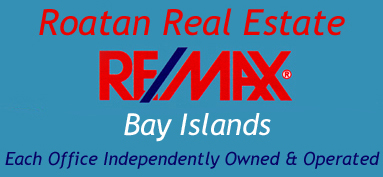 Recent Roatan Real-Estate Listings

Roatan & Utila Islands, Bay Islands, Honduras?
Are you looking for a change in your home, property & lifestyle? Do you need to have a little adventure in life? Are you tired of following the crowd to crowded 'popular' and often expensive locations? You really should be considering Roatan.
Roatan Real Estate – REMAX Bay Islands & RE/MAX Western Sunsets should be your one and only stop for all your real estate needs! Looking for that perfect new home, condo or land bank investment?
Realty is our specialty and we offer concierge service for all our clients. Start to finish you are at the top of our list!
RE/MAX Bay Islands offers condos, villas, homes, home sites, commercial or acreage. Whether you look at properties we represent or use our advanced MLS software we can find your Island Dream property.
The worlds of adventure, nature and diverse cultures! Tropical Flora and Fauna! Start your Adventure today!
Client Testimonial-
"I have been visiting Roatan for about 17 years, and purchased a property (beautiful) about 1997. I have dealt with 4 different realtors and am familiar with most of the brokers on Roatan. There are substantial differences between realtors, and I don't want to dwell on negatives. Larry and his staff are equal to the best Brokers and required standards in the US. I listed my property 4 times and the listing with Remax was painless, and profitable, to say the least. If you are looking, buying or selling, you WILL have problems with anyone other than Remax, as I found with the numerous serious problems with the other Brokers including the original way I held title, as Larry found, and fixed, such that I could sell the property. I highly recommend Larry and his staff even if you are looking for a rental, condo, or purchase. Should anyone wish to contact me direct to discuss my experience, Larry can furnish my phone # and/or e-mail address.
It is nice to be able to trust a person on the Island, not that others are crooks, but just not knowledgeable concerning a serious investment with your money.
I DON'T WRITE MANY OF THESE, BUT I VOLUNTEERED TO THIS AFTER AN IMPRESSIVE AND SHORT CLOSE.THEY ARE SUCCESSFUL FOR THESE REASONS, AND I HAVE MONEY IN MY POCKET.
Please thank your staff and the attorney for their professionalism".
Charles Cristy
The Great State of Texas
Welcome to one of the best values in the Caribbean!
'Islands Magazine' Named Roatan the #1 Island IN THE WORLD to retire on.
Read it here
Do you have any questions. You have come to the right place! You can go to this link and put any subject into the search bar, (legal, medical, dental, shopping, restaurants, etc) and you will be taken through our data base of our years of experience, newsletters and posts list to select what you wish information on! Check it out here – Roatan Real Estate News
If you wish to learn about Roatan Real Estate opportunities you have certainly come to the right place!
Sign up Today!
Roatan-RealEstate Newsletter
Want to see a sample first?
Roatan-RealEstate Newsletter Sample
RE/MAX. Bay Islands. The answer to all your Roatan questions.
Mission Statement
For every single customer, we will work as hard as we can to help them achieve their dreams. We are grateful and inspired to be working with a select team of professionals whom we believe are some of the most capable, honest and hard – working residents of Roatan. We believe that working hard at something you love to do, with people you trust, is one of the greatest experiences in life. We love to help our customers find homes, land, second homes, a condo or a business that they are happy with. We are devoted to our family, our colleagues, and our community. Finally, we believe that our business can be successful for generations only if we continue a Tradition of Trust!
See our Testemonial Page-
In 2012 my wife and I decided we wanted to buy a piece of "Paradise" (Roatan) for investment purposes and to have our own place to stay when visiting the island. Our main concern was who we wanted to work with in the process. After much research via phone, internet and word-of-mouth, we decided to contact Larry Schlesser and we couldn't have made a better decision. Larry took the time to explain the benefits and shortcomings of various properties on the island regardless of price. We not only bought a small beach condo for investment purposes, less than a year later we purchased our retirement condo on the island from Larry as well. Larry and his excellent office staff have made our Roatan real estate experience a pleasure.
Doug Miles
San Antonio, Texas