Roatan RE/MAX Team Newsletter– March 2020
Spring is here and is the perfect time to see the island at its best. Lush and green from the recently finished rainy season with the still blowing trade winds cooling the beaches. Roatan RE/MAX Team Newsletter is full of new listings, price reductions, and island news.
The Roatan RE/MAX Team have been busy this month not only selling and listing real estate but sponsoring and volunteering at various events across the island. The Roatan RE/MAX Team truly are a team to be reckoned with. Take a sneaky peak at all the real estate listings and island news in our March Roatan RE/MAX Team Newsletter.
THE ROATAN DIVE ACADEMY – OF COURSE
GARIFUNAS GO LIVE
POWER TO THE PEOPLE
POLEFIT
BREWERS VETERINARY CLINIC COMES TO THE RESCUES
ISLAND EXCHANGE – UP-CYLE!
LISTINGS, LISTINGS, LISTINGS
KEEP IN TOUCH
EDUCATION BEFORE YOUR VACATION
THE ROATAN DIVE ACADEMY ARRIVES – OF COURSE
We now have an academy with the main goal being to offer regular high-level training for dives specifically here on Roatan. Scheduled every month, the school will offer an array of instructor and professional recreational and technical diving courses with an Instructor Development Course (IDC). The courses will include TEC, Gas Blender, Dive Master, IDC and Trimix Blender.
A large number of specialties will also be available including Deep Diver, Full-face Mask, Night Diver, Side Mount Diver, andSelf-Reliant Diveramongst others.
The Roatan Dive Academy is a collaborative effort between several dive operators, the training will be held in multiple locations – next IDC course starting 7thFebruary.
This course is not only open to visitors but, thankfully, to improve and develop the skills of our resident dive masters.
https://www.deeperblue.com/check-out-the-roatan-dive-academy/

GARIFUNA GO LIVE
The Garifuna community of Punta Gorda, here on Roatan are an Afro-Indigenous community. Their ancestors are also scattered acrossthe Caribbean coast of Central America and, increasingly,in cities throughout the United States.
A private, shy culture infused Garinagucustoms and heritage who are often misunderstood as it has, until recently, been a strictly oral legacy.
Now it iss becoming digitally preservedby Siria Alvarez, founder and CEO of The Garifuna Marketin 2019. She has launched an e-commerce shop that sells items that represent the Garinagu. She is igniting Garifuna pride through designing, sourcing, manufacturing and then marketing merchandise from her online shop as well as sharinghistorical and cultural information through her Instagram page, Twitter and Facebook. Posted isa combination of compelling images and insightful videos highlighting typical Garifuna mouth-watering cuisine, dance (The Punta and The Wanaragua), handcrafted jewellery, artisan flags and clothing.
Alvarez likes to highlight the happinessof the Garifuna people just enjoying their culture. It is a learning and sharing process for her and her followers. By them sharing, The Garifuna Market is keeping the culture, and history, going whilsttellingthe story of resilience that began in the Caribbean's St Vincent and the Grenadines islands and resulted in the 300,000 Garinagu that exist today.
When you visit Roatan, go spend the day in Punta Gorda to absorb and experience the culture, food and customs of the Garifunas.
https://remezcla.com/features/culture/garifuna-market-reconnecting-people-culture/

POWER TO THE PEOPLE
Modern technology is coming to Roatan. Our existing (and only) electricity provider Roatan Electric Company (RECO) has contracted Wärtsilä Energy Storage Technologyto add an energy storage solution to its power plant.
The addition of energy storage (controlled by a new energy management software) will provide additional flexibility to add usersinto the local grid and increasereliability.
The solar PV power plant project is already full steam ahead in French Harbour and will be delivered on a fast-track basis. It is predicted to be operational before the end of 2020.
The storage system will provide reserve capacity needed to maintain stability of the island's grid – over 20 percent of the delivered island energy will come from renewable sources. As the population and demand for electricity continues to increase, the implementation of this system is vital to improve, and sustain our supply as well as being more efficient and reliable, RECO will be able to provide more cost-effective electricity.
RECO has already put in place a 26-turbine wind farm, and a recently completed a 6-mile underwater subsea cable to expand their distribution system to two nearby islands.
Thank you RECO!
https://www.renewableenergymagazine.com/storage/wartsila-energy-storage-technology-to-help-integrate-20200129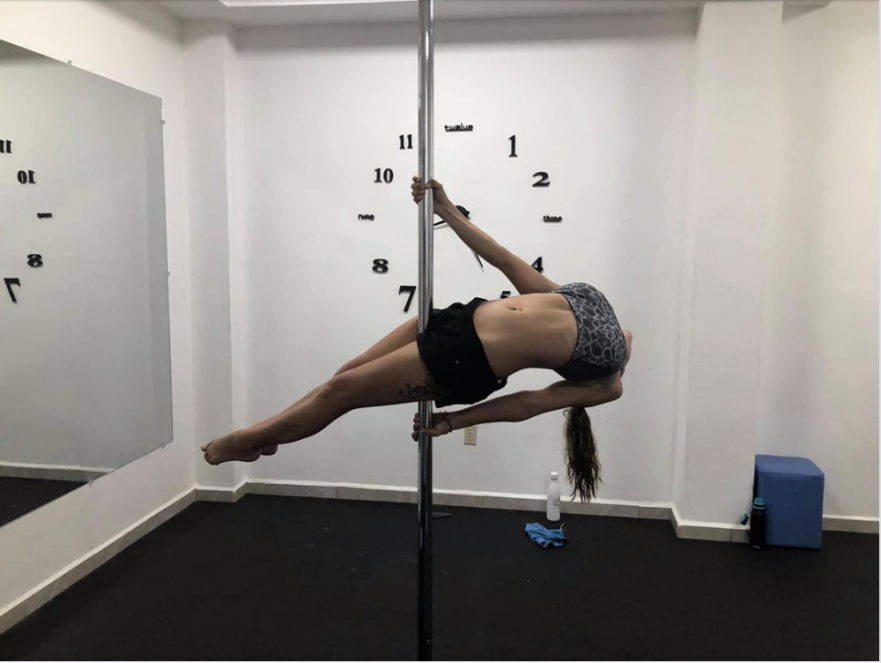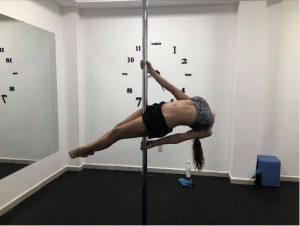 POLEFIT
We now have a new fitness training facility that includes in its repertoire of classes, Pole Fit. Never before seen on Roatan, a pole! It is going down a storm with its members and, yes, spectators have to be declined……
The studio provides an air-conditioned private space to work out in, fantasticworkout music, unlimited ice-cold water and fourteen different types of equipment.
Opened by a Scottish fitness fanatic and dive master, Mayghan Wilson, who has been living on Roatan for 2 years. She saw that the range of fitness options was limited here on island and we all know how hard it is to motivate ourselves to work out – especially if the excuse "I hate the gym" is viable.
There is a plethora of class options to choose from: One More Minute (a tough circuit training class that that "One More Minute" feels like "One More Hour, it is that grueling; Restorative Yoga; Pilates; Legs, Bums & Tums; Stretch, and of course PoleFit.
Reasonably priced at $30 per month (or pay as you go packages from $5), in a superb location right in Coconut Tree Plaza just outside West End (with rare parking facilities), and at times that suit those who are working a 9 to 5 job.
The classes are fun but challenging and focus on health and fitness with innovative routines and stamina building exercise programs.
https://www.facebook.com/PoleFitRoatan/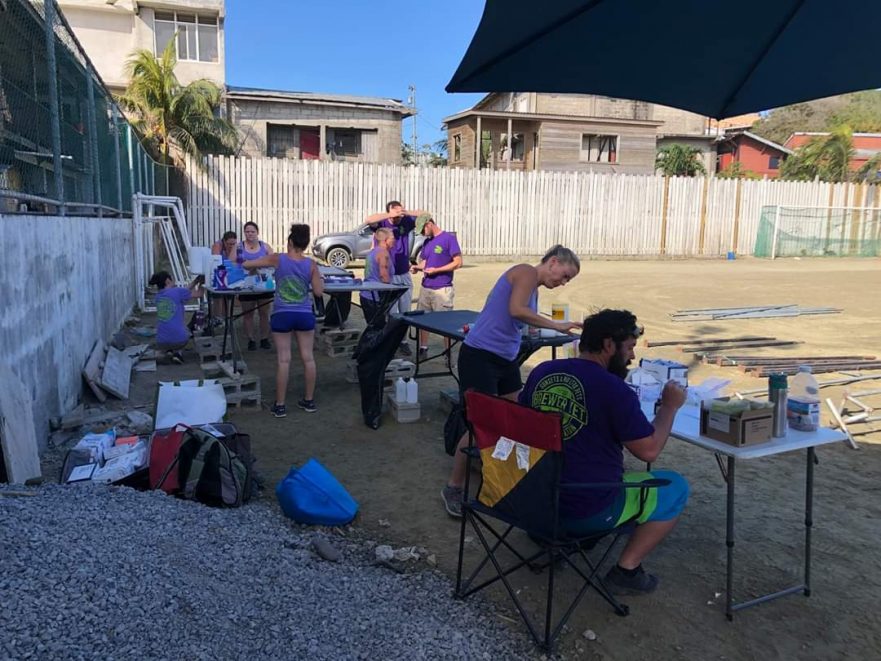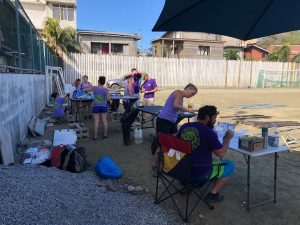 BREWERS VETERINARY CLINIC COMES TO THE RESCUES
Unfortunately, Roatan, like many third world countries, has a large population of street animals and a culture that does not have the same feelings about animals that "we" have.
Fortunately, many of the expats that have made the island their home makes it their mission to help the dogs and cats that are sick, abused or homeless.
A bit part of reducing the number of strays is neutering and spaying, which is costly. But then, in came the team of veterinarians, technicians and support staff from Brewer Veterinary Clinic all the way from Maine, USA. They carried all the supplies and medicines required to run the free neuter/spay clinics in the poorest communities on the east end of the island.
They and the many animal loving volunteers (one of them a member of the RE/MAX team), that live on Roatan, rallied together equipment, supplies, lunches, excursions, rides for locals and their pets (for the vets when they weren't working).
The locals front each community poured to the clinics with their animals and sat patiently waiting their turn. It was a beautiful thing to watch and see how much they cared for their animals but did not have the funds to do provide the right health care.
Then, in the blistering heat, under the cover of hastily erected tents on makeshift operating tables, the veterinary team performed surgery after surgery, examinations and health checks galore and managed tend to a few real emergencies. They even squeezed in a horse consult in their lunch hour.
The Brewer Veterinary Clinic dedicated their time, energy, expertise and care into helping the animals of Roatan and they will never be forgotten.
The animals and animals thank them.
It takes a village!
https://www.facebook.com/1215345942/posts/10222408213293565/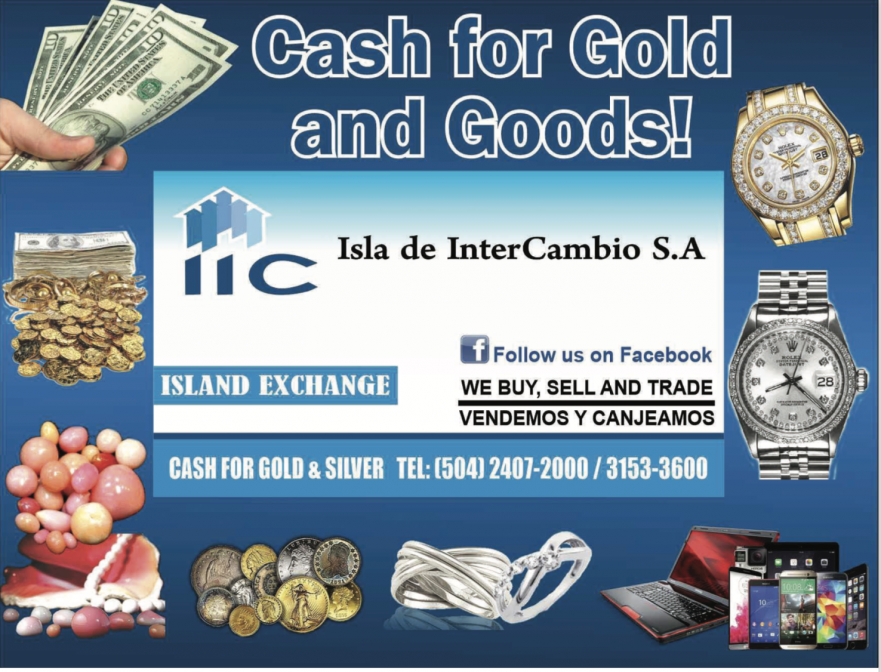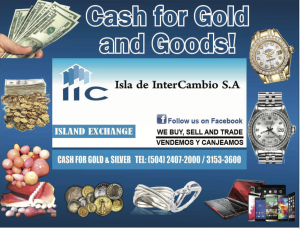 ISLAND EXCHANGE – UP-CYLE!
In business since 2016, Isla de InterCambio SA is located in Jackson Plaza 2 minutes west of French Harbour and right next door to RE/MAX.
With worldwide issues threatening supply lines and overall manufacturing being focused in the Orient, buying items which are "brand new" will become increasingly more expensive as supplies dwindle. AND, given that the life span of a "new" anything is often longer than a retired person or 'snowbird' requires, makes the case for buying up-cycledwhenever possible.
Their up-cycled products have been thoroughly tested and in most cases are in "as new" condition. Plenty of life left in them and less than half the price.
Many would like to have a fully stocked toolbox to help them with small handyman jobs around the house or condo. Buy up-cycled power tools at Island Exchange and enjoy huge savings.
Most homes are equipped with a television in each room. Why buy new, when an up-cycledunit will be more than adequate? The same goes for DVD players, computers, stereo systems, beach boom boxes, backup generators the list goes on and on.
This is a very lucrative business on our little island as new goods tend to cost more because they are shipped to the island and the supply does not always meet the demand. International Exchange remains well-stocked as there is forever a shifting of expats – they come; they go! Additionally, many investors have rentals so International Exchange can help keep the costs down for preparing a vacation home ready for visitors.
https://www.facebook.com/Isla-de-Intercambio-635096016679472/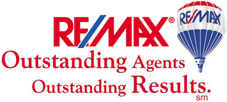 LISTINGS

LOTS
NEW LISTING – 0.13 acre beautiful homesite located in the prestigious gated community of Coral View:
https://www.roatan-realestate.com/properties/402-Residential-Land-Flat-Buildable-lot%2319-Coral-View-Village-Roatan-Ho-34101-USD47-000/
PRICE REDUCTION – 0.34 acres located just 10-15 minutes away from West End and all it's amenities, beach, restaurants, gas station, grocery stores, etc. Electricity nearby and community water available:
https://www.roatan-realestate.com/properties/397-Residential-Land-Location-Packed-withTranquility-Roatan-Ho-34101-USD29-000/
NEW LISTING – Beautiful Politilly Bight property three lots in total, approximately 1.135-acre hilltop with views overlooking the Caribbean Sea:
https://www.roatan-realestate.com/properties/401-Residential-Land-Politilly-Bight-Santos-Guaradiola-Ho-34101-USD250-000/
ECO-FRIENDLY – Lot 1 in Love at First Bight eco-development. Enjoy the incredible views from ridges and rolling hills:
https://www.roatan-realestate.com/properties/358-Residential-Land-Lifestyle-by-Atocha-Santos-Guaradiola-Ho-34101-USD149-000/
DREAM HOME OPPORTUNITY – Diamond Rock Resort – Lot A7 – "far from the madding crowd" and tucked away from the main tourism areas:
https://www.roatan-realestate.com/properties/345-Lot-A7-Diamond-Rock-Resort-Santos-Guaradiola-Ho-34101-USD77-000/

HOMES
PRICE REDUCTION – Fixer-upper. Located within the private and peaceful community of Sundancer Cabanas in East Sandy Bay, just a 2-minute stroll to Sandy Bay beach. A wooden style ground floor, 2 bedrooms/1-bathroomunit -high ceilings, open concept living/dining areawithhardwood floors, cabinetry, and equipped kitchen:
https://www.roatan-realestate.com/properties/396-Condo-Sundancer-Unit-5B-Roatan-Ho-34101-3-Rooms-2-Bedrooms-1-Bathroom-USD99-000/
NEW LISTING – Perched at a high elevation, all of the benefits come with this great3 bed/2 bathhomenear Johnson Bight:
https://www.roatan-realestate.com/idx/Main-Road-Mid-Island-Mid-Island-Eye-Candy-Views-Roatan-mls_20-82/?OrderBy=-ModificationTimestamp&Limit=16&pg=1&p=y&n=y&m=20040614210230960631000000
LUXURIOUS HOME VIDEO TOUR -A 4 bed/4.5 bath beach/bluff'beautifully appointedhome with elevated views of the ocean. Also has a 2br/2b Guesthouse and a shared community boat dock:
https://www.roatan-realestate.com/idx/Lot-14-Quality-Built-Luxury-Home-Blue-Harbor-Roatan-mls_19-608/?OrderBy=-ModificationTimestamp&Limit=16&pg=5&p=y&n=y&m=20040614210230960631000000
CHEAP – Buy your boat access only 'Bargain on the Bight' waterfront home at a totally affordable price. Included with the price the little 1 bed/1 bath fixer-upper home, on 0.28 acres in Calabash Bight:
https://www.roatan-realestate.com/idx/Calabash-Bight-Waterfront-Casita-in-Calabash-Roatan-mls_20-44/?OrderBy=-ModificationTimestamp&Limit=16&pg=4&p=y&n=y&m=20040614210230960631000000
PRICE REDUCTION – Remodeled spacious Mediterranean style 3 bed/3 bath spacious 3-bedroom 3 bath single level home. Two minute walk to a private white sand beach witha community dock:
https://www.roatan-realestate.com/idx/Great-Views-Breezes-Tranquil-Elevated-Home-Roatan-mls_18-454/?OrderBy=-ModificationTimestamp&Limit=16&pg=3&p=y&n=y&m=20040614210230960631000000
INVESTMENT OPPORTUNITY: This tranquil offering would make the perfect family compound or primary residence with extra space for rentals and or maybe that beautiful, tropical, boutique B & B:
https://www.roatan-realestate.com/idx/East-Calabash-Big-Rock-Estate-Roatan-mls_19-599/?OrderBy=-ModificationTimestamp&Limit=16&pg=1&p=y&n=y&m=20040614210230960631000000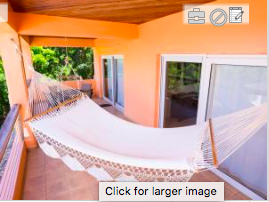 CONDOS
NEW LISTING – 2 bed/2 bath turnkey condo just 2 minutes' walk from West Bay Beach:
https://www.roatan-realestate.com/idx/Condo-Mission-Gate-West-Bay-2-bedroom-2-Bath-Roatan-mls_20-87/?OrderBy=-ModificationTimestamp&Limit=16&pg=1&p=y&n=y&m=20040614210230960631000000
PRICE REDUCTION – Turnkey 2 bed/2 bath condominium in this tranquil 6-unit complex with amazing year-round Caribbean and sunset views, swimming pool, spacious deck, outdoor furniture, pergola, roof top deck:
https://www.roatan-realestate.com/idx/Sunset-Villas-Drive-West-End-The-Views-at-Sunset-Estates-1A-Roatan-mls_19-234/?OrderBy=-ModificationTimestamp&Limit=16&pg=1&p=y&n=y&m=20040614210230960631000000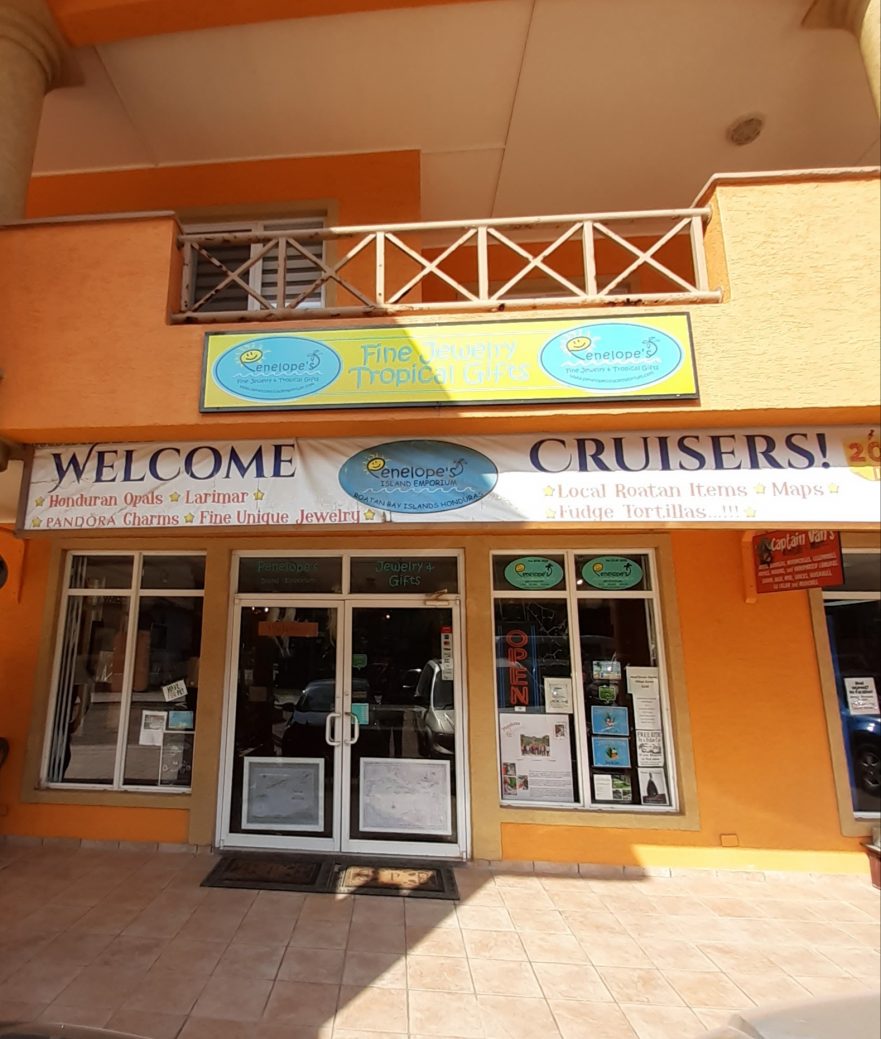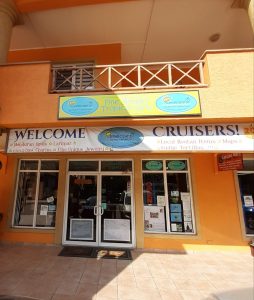 COMMERCIAL
PENELOPE'S ISLAND EMPORIUM –located within the prime location of West Bay Mall, has been in business for 15 years and has a myriad of gifts for all occasions. It sells fine jewelry, accessories and unique gift items and home furnishings:
https://www.roatan-realestate.com/idx/West-Bay-Mall-Penelope-s-Island-Emporium-Roatan-mls_20-62/?OrderBy=-ModificationTimestamp&Limit=16&pg=1&p=y&n=y&m=20040614210230960631000000
ESTABLISHED COFFEE SHOP – Roatan Coffee Roasters is the only cafe on the island to offer fresh roasted, 100% Honduran Mountain grown coffee on the premises! Your clients can choose to sit on the cafe patio, open air resort restaurant, or the right on the white sand beach looking out to the Caribbean Sea:
https://www.roatan-realestate.com/idx/Bananarama-Drive-Roatan-Coffee-Roasters-Roatan-mls_20-52/?OrderBy=-ModificationTimestamp&Limit=16&SavedSearch=20171123175800863956000000&pg=1&p=y&n=y&m=20040614210230960631000000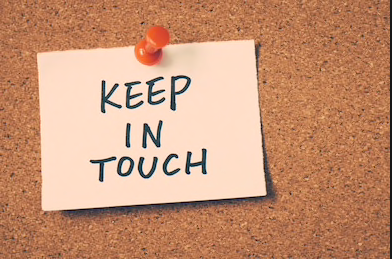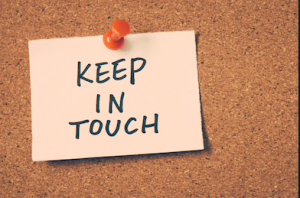 KEEP IN TOUCH
Stay updated on all of the current listings and price reductions. Our monthly VIP newsletter will give you a first-hand look at all of new listings, price reductions and hot deals. And it will keep you informed of any changes or new events that are occurring. To sign up click: https://www.roatan-realtor.com/real-estate-investment-club/. Check out the previous issues or subscribe here: https://www.roatan-realtor.com/bulletins/.
Moreover, we'll also provide you with valuable information and tips about selling your house. In addition, what to look for when purchasing a home or property.
Whatever your real estate questions, needs and priorities are, RE/MAX is here to help!
Please watch our webinar "Discovery and Investment Tour". Its aim is to provide you with information and facts to aid your decision to invest in the Bay Islands:
https://www.roatan-realtor.com/intro-welcome/

EDUCATION BEFORE YOUR VACATION
Need more information? Check out the educational links below:
RE/MAX has pulled together a lot of information for our clients over the years. If you want to get to know some important facts about Roatan before you come down.
The purchase of a property in a foreign country creates many questions. This link will
get you to the answers:
https://www.roatanbayisland.com/roatan-faqs/
Our Video Information Series is a series of short videos that features input from a variety of people. They provide information on Titles, Residency, Taxes (US and Canadian), various types of insurance, medical care and facilities, and even a long term ex-pat:
https://www.roatan-realtor.com/intro-welcome/
You are not familiar with Roatan? This link will provide you with information on the geography of the island. That will help you decide where on the island suits your goals best:
https://www.roatanbayisland.com/geography-webinar/
What to do whilst you are here, we can tell you that too, click on:
https://www.roatanbayisland.com/things-to-do/to find out what exciting and fun things you can do.
A picture is worth a thousand words:
https://www.roatan-realestate.com/photo-gallery/
Visit us on FaceBook, (and 'like' us please): https://www.facebook.com/RoatanRemax/