RE/MAX Roatan Utila 9/'17 News – Hurricanes Luxury Homes & More!
-Luxury Homes
-Hurricanes
-Gold Medal Free Dive Event
-Dolphin Viewing
-Roatan = The Hawaii of Yesteryear
-Relocation
-Tax Write-Offs
Hurricanes-Luxury-Homes-More!
Luxury Homes
I realize that everyone isn't looking at luxury homes, but I wanted to include a section on luxury homes because I know that some of you are. People who are considering luxury homes are smart individuals. Roatan has never been considered a luxury market, but there are luxury homes on the island. These luxury homes were built by people who weren't always thinking about resale value, and therefore, bargains abound.
I am familiar with the real estate market in Florida and the price points of vacant homesites and homes on the beach. On Roatan, you can often buy a home on the beach for less than what people pay for a homesite in Florida. That's right. Often you can buy a luxury home on the beach in Roatan for less than what people pay for a lot in Florida.
If you are looking for more information on luxury homes, click on the link below. Prices start at $500K U.S. https://link.flexmls.com/1aqxekj7l6dg,2 .If you are not interested in the luxury category, this is a great place to start for other categories such as condos and land
https://www.roatan-realestate.com/roatan-real-estate.
Hurricanes
Recently, a portion of Texas, a large swath of the eastern Caribbean, the entire state of Florida, parts of North Carolina, and even all the way north to Memphis were impacted by hurricanes. Since then, I've fielded many questions about hurricanes on the Bay Islands.
Very few Hurricanes end up near Roatan. The recent above-mentioned storms came across the Atlantic, and then stretched out to Mexico or various places and headed north or to the eastern seaboard. The very infrequent hurricanes that come near the Bay Islands, come up from South America and go over the mountains in Nicaragua and Honduras before they dump rain on the Bay Islands.
As many learned with the past couple of storms, storm surge can be a big deal. However, in the Bay Islands, storm surge isn't as serious because we have a coral reef that surrounds the islands. Basically, someone can stand and watch a 10-foot wall of waves head to shore, but when the waves hit the reef, the wall decreases dramatically. I have stood on shore and watched this very thing (once in 17 years).
On the north side of Roatan and Utila, the reef is a bit further from shore, and the winds can use that space to build up force. I have seen docks being ripped from the posts in the water. However, when you think about hurricanes, your mind can rest easier if you are in the eastern Caribbean, Bay Islands.
Gold Medal Free Diving Event
__The World Championship Free Diving Event was held in Roatan last month. The Free Diving Event included divers from around the world who dive as deep as possible without any air supply. The winner of this year's competition dove 136 meters, (for those who are metrically challenged like me, that is 446+ FEET! Can you imagine?). Learn more here.https://www.stuff.co.nz/nz-newspapers/central-north-island/sport/sport-region-6459/96351505/Kiwi-freediver-Dave-Mullins-shares-gold-medal-at-world-championships
Anthony's Key Resort Dolphins Roatan & Dolphins
Although it is not unusual to see dolphins in this part of the world, an up-close and personal experience with dolphins often requires a trip to Anthony's Key Resort (AKR) in Sandy Bay. Those interested in dolphins, can go to AKR and swim, snorkel, dive, and have real-life dolphin experience in the crystal clear, Caribbean blue seas. http://www.anthonyskey.com/
The Hawaii of Yesteryear on Affordable Roatán By Jason Holland
Shorts, sandals, and tee shirt or tank top—that's the uniform on Roatán, the largest of Honduras's Bay Islands. It's a laidback life, where island time is very much in effect. For the mainly North American retirees and other expats who call it home, it is a warm and welcoming community. Parties on holidays and parties "just because," beach outings, boat trips to outlying islands…it's a tough duty on Roatán. And with expat couples living well for $2,000 to $2,500 a month, it's small wonder so many choose to make their homes here.
The above is an excerpt from International Living Magazine, a long-time publication that covers places to live outside of the United States and Canada. Many people from those two North American countries gravitate to Mexico and Central America, and a few to South America because of flight times and convenience to visiting friends and family. With those favorite areas being only a couple hour + flight Roatan (RTB) & Utila end up in the research more times than not. An International Airport on Roatan makes air travel easy. Here are some previous articles written on the Bay Islands
https://internationalliving.com/?s=roatan.
Is relocation in your future?
Historically generations before us moved to the "promised land"' of Florida and Arizona for warm weather and retirement. With the changes in the social fabric, at times political divisiveness, along with the cost of living, many search out other alternatives. Thousands of people each year make a choice to move to another country. Almost 5,000 from the U.S. just last year decided international living was for them.
Does this appeal to you? Apparently, the answer to that question is yes. Forty percent of the people who took our July survey are researching relocation, full time.
What do you do when you get here? It could take a lot more than this newsletter to provide options, but if you are looking for a second life or are too young to retire, I know of a couple of business opportunities. If you want to hear about these options, reply to this newsletter, and I will send you additional information.
These opportunities would, of course, allow you to earn money on the island, and the first $100,000 would be completely tax deductible with the IRS (if you are a U.S. citizen).
Some people wake up to the economic reality that they cannot afford to live where they are right now. Here is a map that attracted my attention and thought I would pass it on.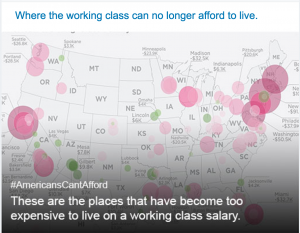 Do you have U.S. tax questions?
I certainly am not a tax expert, but I do know someone who is and who would be happy to answer your questions. If you're a US citizen planning to move to Roatan or Utila, you probably have many questions about the US tax aspects of living abroad. My tax attorney, Stewart Patton, has developed a series of online courses to answer these exact questions. Also, for those of you who own your own business or work as a freelancer, the courses also include everything you need to set-up the best legal structure for your situation. You can read more about the courses here: http://ustax.bz/courses/tax-savvy-expat
Real Estate New Listings, Deals & Steals-
NEW – Value Priced Beach Home- https://www.roatan-realestate.com/idx/Beach-House-Calabash-Value-Priced-Roatan-mls_17-402
NEW – One of the best price per square foot, turnkey furnished condos on the island. Seller finance!
https://www.roatan-realestate.com/idx/111-Excellent-Value-for-Quality-Great-2br-2ba-Condo-Roatan-mls_17-403
NEW – Your estate or Developer Dream Property. Over 2,000 feet of waterfront includes lots of white sand beach and protected harbor for possible marina slips. Very few of these opportunities available on island!
https://www.roatan-realestate.com/idx/Over-2000-of-Waterfront-Milton-Point-Roatan-mls_17-400
NEW- Beautiful minimal slope, easy to build in top end community home site. Very good views to Caribbean Deep Blue seas and Mainland rain/cloud forest mountains.
https://www.roatan-realestate.com/idx/Parrot-Tree-Plantation-57-View-Home-Site-Roatan-mls_17-364
NEW – Palmetto Bay Home- Great little beach home for your enjoyment. Nice price, quiet location. Close to golf course.
https://www.roatan-realtor.com/idx/Unit-A-11-N-Palmetto-Bay-Plantation-Roatan-mls_17-379
Special one of a kind!! Private two beautiful beach front homes sitting right on the beach of the Caribbean Sea!!
https://www.buyingroatan.com/
Beautiful new residential lots located just outside West End
https://www.buyingroatan.com/idx/Madganzuni-Rd-Mangrove-Bight-Land-241-acres-Roatan-mls_17-323
Are you are looking for a Caribbean Vacation Home? Look no further!! This gorgeous property comes with two lots and a vacation rental!!
https://www.buyingroatan.com/idx/Plus-1-Bedroom-Rental-Lawson-Rock-Home-Roatan-mls_17-195
Value Priced home, mid-island location- 3br/3ba home – $147,800
https://www.roatan-realestate.com/idx/Mango-Tree-Garden-Roatan-mls_17-256
Nice Home site, value priced, great area! -$35,000
https://www.roatan-realestate.com/idx/First-Bight-Flat-Buildable-Lot-Roatan-mls_17-247
Large .66 ac home site, very buildable, centrally located – $35,000
https://www.roatan-realestate.com/idx/First-Bight-wonderful-estate-site-nestled-Roatan-mls_17-246
Pineapple Villa condo – Everything you would want for amenities and convenience to restaurants, golf course, medical care and shopping.
https://www.roatan-realestate.com/idx/Financing-Available-PV-Luxury-Pool-front-Villa-812-Roatan-mls_15-103
3br/2ba Central location home only $119,900
https://www.roatan-realestate.com/idx/3-Br-2-Bath-House-Loft-Roatan-mls_17-63
NEW – SIX Unit Apartment Complex –
http://www.flexmls.com/
NEW – Corner building lot near West End-
http://www.flexmls.com/
NEW – Tiny Home $31,000 !
https://www.roatan-realestate.com/idx/Your-Utila-Tiny-Home-By-BICA-Summertime-Studio-Cottage-Utila-mls_17-377
NEW – Great opportunity on Utila Jewel Cay – home of Utila's local fishermen. Check out this bright and breezy furnished oceanfront home.
3 bedroom, 1.5 bathroom with private boat slip.
https://www.roatan-realestate.com/idx/Jewel-Cay-Utila-Cays-The-Point-House-Oceanfront-Utila-mls_17-204/
NEW – Being sold by original developer for a knock-down price. Residential beachfront lots at Mariners Landing on Utila's South Shore with views to Honduras mainland mountains and Utila Cays. Only 4 lots remaining, each around 0.34 acre with 87 feet of beachfront.
Grab your Caribbean dream property before they are all sold!
https://www.roatan-realestate.com/idx/Mariners-Landing-South-Shore-0-34-Acre-Beachfront-Utila-mls_17-373/
Buyer's Agent Representative Alex Poirier's September "Best Buys"
https://link.flexmls.com/1aqzkesehrgi,2
Important Links just for you! RE/MAX – Doing More from For Sale to SOLD!
RE/MAX Listings –ALMOST 200 Just from RE/MAX Plus the entire Island MLS is right here!
https://www.roatan-realestate.com/roatan-real-estate/
"All You Need To Know" –https://www.roatan-realestate.com/intro-welcome/
Roatan Geography – https://www.youtube.com/watch?v=LPXHZ_dSPF4
Utila Geography- https://www.roatan-realestate.com/utila-geography-webinar/
Buyer's Information and FAQ-https://www.roatan-realestate.com/roatan-buyers/
Check out the Beauty of the Country!
https://www.roatan-realestate.com/photo-gallery/
Kind regards,
RE/MAX Bay Islands & RE/MAX Western Sunsets